Baku tours will introduce you to the city that is rapidly acquiring a modern look, at the same time preserving its antic heritage. Baku is famous for its eclecticism: its fortresses are associated with the Middle East, skyscrapers and new quarters – with Dubai and Abu-Dhabi; its streets of the Old City somehow remind Barcelona, and Palace of Happiness (Palace of Marriage Registrations), also called Mukhtarov Palace was built in the Venetian architecture style.
After visiting Baku in 1928 Maksim Gorkiy wrote in his essay on the Baku bay:
"Until this night I could not imagine a more beautiful picture as Naples in the night from the Vomer mountain… But Baku is lit richer, denser and just like in the gulf of Naples, thousands of shore lights were reflected in the black mirror of the Caspian Sea".
Hurry up to meet this charming city. Take a walk to the pebbled streets of the Old quarter Icher-Sheher, where first buildings appeared in the 8th century. These streets live their own life: little boys play a ball; residents of neighboring houses discuss the latest news talking from their balconies. Remember to make a wish during your promenade in the Palace of Shirvanshahs, look at beautiful hand-made carpets that are lying on the stone pavement under the burning sun, and listen to the numerous legends of the unassailable Maiden Tower. Also, make sure to visit one of the restaurants located in the former caravan-sarays, where you can enjoy wonderful dishes of the Azerbaijani cuisine or simply drink tea with sweets under the shadow of old sycamore trees.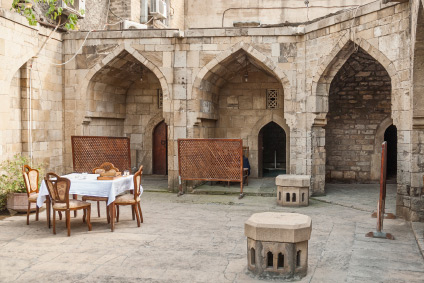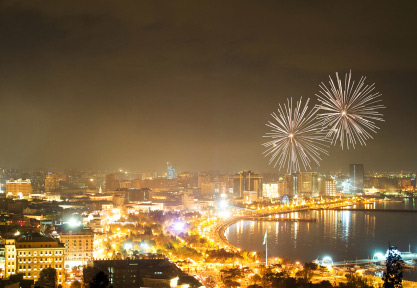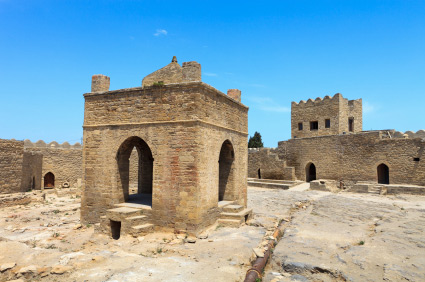 Meeting the old is only one part of fascinating Baku tours. During the excursion, you will see eccentric futuristic side of the city. So, for example, the Center of Culture of Azerbaijan named after Heydar Aliyev reminds a white spaceship. Flame Towers skyscrapers, signature of Baku, are lit with LED-screens in the night time demonstrating city dwellers and guests of the capital one of the best illuminations in the world.
Take a walk along the Baku Primorskiy Boulevard during the tour. It is the symbol and heart of Baku and beloved place of the city residents. There is everything one needs for a pleasant leisure time: musical fountains, attractions for children and adults, cozy cafes and tea houses, cinema, parachute tower and even a yacht-club. Observation deck of the Nagorniy park, located nearby, opens a beautiful view to the bay.
Baku tours include a visit to the city surroundings, where you can see many other interesting sights. Among them are the Gobustan reserve with ancient rock art included in the UNESCO World Heritage List; Zoroastrian Temple of fire-worshippers Ateshgyah on the Apsheron peninsula; and Khynalyg – one of the ancient settlements of Azerbaijan.
Warm and hospitable Baku is waiting for you!